Home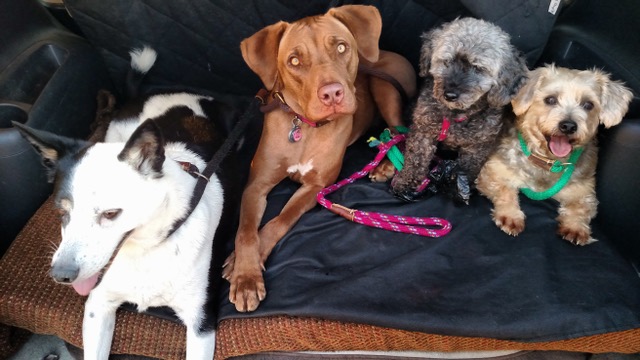 Open 365 Days per year including all holidays. 24 hours per day.
Gift Certificates Available
We have updated a policy in order to better serve all of our clients. When you reserve dates to board your dog, we need the exact dates to secure your reservation. If you return early you will be responsible to pay for the dates of your reservation.
New overnight boarding prices effective
January 1, 2019
1 dog boarding 1 - 5 nights $30.00 per night
1 dog boarding 6 - 12 nights $27.50 per night
1 dog boarding 13 nights and longer $25.00 per night
2 dogs boarding 1 - 5 nights $52.00 per night
2 dogs boarding 6 - 12 nights $50.00 per night
2 dogs boarding 13 nights and longer $47.00 per night
3 dogs boarding 1 - 5 nights $75.00 per night
3 dogs boarding 6 - 12 nights $71.50 per night
3 dogs boarding 13 nights and longer $68.00 per night
OUR DAY CARE PRICES REMAIN THE SAME
Thank you,
Roger and Susan
WHO are we? A husband and a wife, who love animals. We created Friendly Paws Pet Care because we have lived and worked with animals our entire lives. Our decision to work with cats and dogs grew from following our hearts and doing what we love. Roger and I, Susan feel grateful and honored to do this work because animals bring more joy to our hearts then words alone can describe.
WHAT have we gained from working with our beloved pets? They have been our most profound teachers by mirroring to us our most valuable life lessons. They taught us how to laugh more often, how to relax and how to stop taking ourselves so seriously and how to always offer love, especially when it is not offered to us. They never judge us if we fall backward on our journey. They love us unconditionally.
WHERE is Friendly Paws Pet Care Center? It is within our home north of La Crescent, MN. For more than 13 years our home has been a safe haven for rescued animals to heal. When they are healthy we find homes for them through adoption.
WHEN is Friendly Paws Pet Care available? We are open every day 24/7 because at some point in nearly everyones life you may be away from home one or more nights. If one of your family members is a cat or dog they may not be able to travel with you which is why we are here to offer our home as your beloved pets home away from your home.
We offer part-time and full time daily care for dogs within our home 365 days per year for every work shift days, pm's and nights as well as short and long term overnight care. We will also drive to your home 365 days per year to care for your cat and or dog.
WHY choose to work with Friendly Paws Pet Care? Peace of mind. Your beloved pets will live with us within our home so when they are displaying a desire for affection or they are set to go outside to relieve themselves they don't have to wait, we can address their needs as they arise. They will sleep near us as well.
If you email us and do not get a response within 24 hours please give us a call at (507) 643-5167
Our intention is to offer your beloved family member(s) the same comfort, love, nurturing, respect and well-being that you offer them.
Roger and Susan Thicke